the cover games is a feature here at the twirling pages! i'll be discussing: miraculous cover changes, battles between the US cover/UK cover, heart-eye-emoji covers, and well all things book cover related! ❤
(shameless fact: i will judge a book based on it's cover.)
---
THE COVER FOR PASSENGER BY ALEXANDRA BRACKEN HAS DROPPED PLEASE REMAIN CALM *exhales* sorry for the screaming and all-caps; i'm just so so so so so excited. if you don't know, alex bracken is one of my favorite authors. read my past blog posts and you'll see that i rave about the darkest minds, her other trilogy, way too much. but today we're going to be talking about her new duology that is going to be released in 2016! you can read alex's interview and official cover reveal segment here!! it includes a teaser of the first chapter as well! (if you're wondering, i read it and i would like the novel NOW.)
according to the blurb, it's going to be about time travel, pirates, romance, and a violinist… I LOVE IT ALREADY. alex herself said it was a mashup between outlander and national treasure. SQUEEE. (okay, i'm really sorry this entire post is basically me fangirling and screaming. i'm just really excited.) moving onto the real reason of this post: the cover reveal… LOOK AT IT: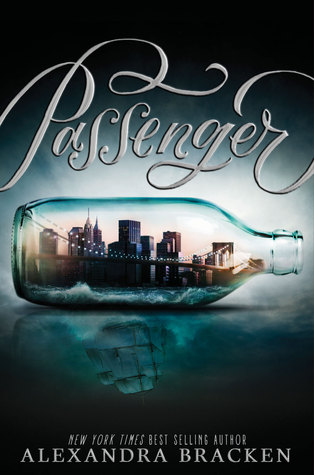 it's glorious! i really really REALLY love the typeface. i saw the preview of the cover – which is basically the title on a black background – and i loved it already because the type is gorgeous. i'm a big sucker for nice script fonts and well, this is a very nice script font. the hard serif font for 'alexandra bracken' is also a nice touch. it contrasts with the script perfectly and adds a very nice 'pirates of the caribbean' vibe.
moving onto the image: it's very.. striking? eye-catching? mysterious? COOL? i couldn't think of a good adjective for it, but those all work. i love how inside the bottle, we see manhattan and the brooklyn bridge and the water… theeeeen the water in the shadow reflects and there's a SHIP. a pirate ship to be specific. it's perfectly incorporated with the story! however it makes me wonder why the image is in a bottle. i know messages in the bottle and pirates, but what does it mean? is it trying to tell us something? is it a message? or is it just a pretty design? i want to know mooooore. hopefully it's metaphorically explained in the book. i also love how it's glowing. the colors are really pretty and everything is precisely focused.
the thing is, i can't decide on which aspect of the cover i like best. the entire thing is very nicely put together and beautiful. i like it better than the darkest minds' series covers because anyone can understand it. it's still mysterious because the shadow is different from the actual image, but we can assume it's about pirates simply from the cover. for the darkest minds, the cover was the psi symbol, which you wouldn't understand unless you read the books. everything about this cover is much more sharper and intense.
real-life gifs of me trying to contain my feelings:
(yes, i had to include pirates of the caribbean and doctor who gifs because PIRATES AND TIME TRAVEL GUYS. do you have any idea how thrilled i am? the all-caps, italics, post-dedication, and gifs are just a teeny tiny bit of how i'm feeling.)
what are your thoughts on the cover?
– alexandra
buy books here♥ // instagram // goodreads //bloglovin // twitter // facebook